Meet Dr. Jamila K. Maddox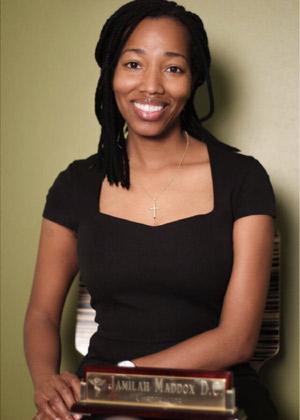 Dr. Jamila K. Maddox is a World Citizen – born in Cincinnati, Ohio and nurtured in numerous US states, Europe and Africa. Her family, friends, associates and patients are from all over the world. Since 2010, Dr. Maddox has delivered high-quality health care to area residents wishing to eliminate their pain and optimize their wellness potential. At Cincinnati Healing Arts we welcome all individuals and family members and offer a holistic approach to health care, including Mindfulness Medicine, Chiropractic Health Care, Personal Injury Care and Functional Nutrition.
A Passion for Helping Others
Dr. Maddox received her Doctor of Chiropractic degree from Palmer College of Chiropractic in Davenport, Iowa. She feels fortunate to have grown up in a family that embraced natural health care. Common Maddox family practices included: meditation; preparing and eating healthy meals; maintaining active lifestyles and going to the chiropractor.
"While I was still in chiropractic college, I was under so much stress that I developed severe hives." She was introduced to functional nutrition at that time when her chiropractor recommended a nutrition program including dietary changes and whole food supplements:
This regimen transformed my body and reduced my stress response dramatically.
Dr. Maddox now considers herself to be a Holistic Chiropractor & Nutritionist, incorporating the best of the chiropractic world with the finest in high-quality nutrition. Her passion is providing natural health improvement to help her patients "look good, feel good and function at their optimum levels."
We encourage you to take the time and effort to invest in your well-being. We care deeply about our patients and try to provide an oasis of comfort and compassion to all those we serve. Learn more about becoming a new patient or contact us today for a free consultation at our Cincinnati practice; we're open late!

Meet Dr. Jamila K. Maddox | Cincinnati Healing Arts | (513) 376-3996